Steaks & Seafood
Our Menu
NOTE: Pricing and availability subject to change
Prepared from an old Cape Cod Portuguese recipe and served with a Cajun Remolade.

Jumbo Cocktail Shrimp served with our homemade cocktail sauce.

Handmade Stuffed Mushrooms

Mushroom caps stuffed with cream cheese, parmesan, parsley, and garlic, baked until golden brown and served with toast.

Hand battered with panko bread crumbs and served with ranch dressing.
Breaded jalapeno chilies filled with cheddar cheese and served with ranch dressing.

White meat breat tenderloins fried and served with honey mustard and ketchup.

A generous assortment featuring some of our finest appetizers including our homemade Crab Cakes, Shrimp Cocktail, handmade Stuffed Mushrooms, Zucchini Wedges, and Chicken Tenders.
Entrees
All entree's include all you can eat salad bar and bread
$9.95 Split entrée charge.
All prices and selections subject to change.
Steak
A 16 USDA Prime New York Strip.

An 8 or 12 ounce USDA Choice New York.

8 Ounce USDA Choice New York Strip made Cajun style.

(when available)

A Small or Large tender cut of filet wrapped in bacon.

12 oz Rib-eye steak.

18 ounce bone-in Rib-eye steak.
NOTE: We will hand carve any size and
weight steak you want for the appropriate cost.
Seafood
A fresh filet of wild yellow fin tuna.

Wild caught Alaskan King Salmon.

Three skewers of tender shrimp.
Chicken
Red Bird chicken grilled with a sweet lemon sauté.

Red Bird chicken grilled with a savory teriyaki sauce.
Kids Menu
Cook It Yourself On Our Lava Grills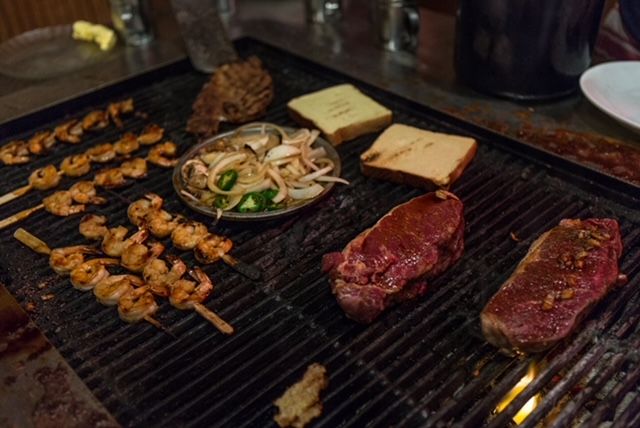 Side Dishes
SIDE DISHES-Are Extra, Please Order at Meat Case
Salad Bar
All you can eat!
All of our entree's include our all you can eat salad bar and Bread. If you would like Salad BAr only then see price below.
Award Winning Minturn Tator

An ice cream and chockolate delight that looks like a potato but tastes like Heaven..
A delicious slice of  cheesecake drizzled with raspberry sauce and topped with whipped cream.
PLEASE NOTE: Pricing and availability subject to change, p
rice is not guaranteed at displayed rate.
Best Quality
Only The Best Steaks, this is NOT the steak you buy at your local grocery, or find at ordinary restaurants.
Only The Best!
At The Minturn Country Club, all of our steaks are selected from only the best three-year old grain-fed steers, graded USDA choice. After starting with the FINEST beef, we age the loins for several weeks to insure tenderness and flavor. When the timing is just right, we cut the loins into steaks and trim away most of the excess fat, leaving only enough for great flavor!